Why is having a pipeline to track opportunities important? You are likely juggling priorities, making selling one of many responsibilities. This could help make the most of the time you invest in selling.

Value of a pipeline
The idea is to get you thinking about these opportunities. Having key information on one page can be a big time saver. Establishing/managing a pipeline will enable you to:
Prioritize time on best opportunities
Review, update priorities
Evaluate progress
Evaluate whether your strategy is working
Identify help you need

Information you want to track
Should include…

Sample sales stages…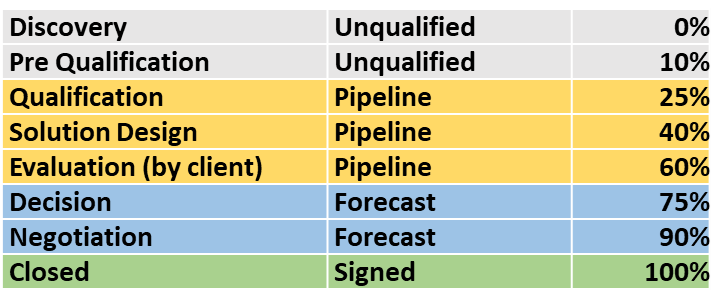 Why review your pipeline
There are many reasons…let's start here…
You have limited time…so you need to be as efficient and effective as possible
Pursuing every opportunity usually does not make sense
Selling is hard…getting some "feedback" that you are heading in the right direction will energize your effort and determination

How to approach pipeline review
Block some time off each week to "stop the presses"…review how things are going with current opportunities, add new ones and decide on your selling related priorities for the next week or two.

Keep it simple so it works FOR you.

Feel free to contact me directly for ideas and/or help on this or other topics!

Sign up as a subscriber for exclusive weekly emails with additional ideas!  Just scroll down!