Selling already requires preparation, creativity, patience and persistence. Considering business is harder to find and sales cycles have become longer, your willingness to "keep at it" while being sensitive to customers' challenges is being tested. How might you maintain or enhance your sales toughness?
Re-evaluate your goals
Figuring this out starts with your ability to "tune into" how each customer is impacted by the pandemic so you know how much you can try to drive opportunities forward. This will tell you what you should focus your efforts on.
What kind of information is reasonable to pursue?
Who is best to contact for guidance needed?
What adjustments to your approach are necessary?
Keeping yourself moving forward
This is not complicated, however, requires some discipline. Now that you have figured out what you can pursue and how, establish a goal for every day you are investing time in contacting your prospects/clients. Depending on the customer, your goals will vary…some situations may be about getting coaching or a referral, others may allow you to be more assertive and specifically seek opportunities.
Now…challenge yourself. When you think you are done for the day, make 1 or 2 more calls. You will be amazed at what you can learn or opportunities you find with that extra effort. After some time, you will find making that extra effort becomes easier.
A model for toughness and moving forward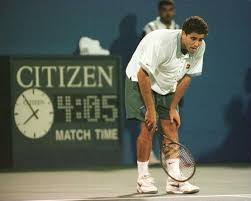 Pete Sampras was THE dominant professional tennis player during the early to mid 1990s. Until Roger Federer came along, many considered him a contender for "Greatest of all time". During the 1996 US Open he is playing Alex Corretja in the Quarterfinal. He is completely physically and mentally drained as the fifth and final set draws to an end. Somehow, he found a way to play one more point at a time and wound up winning an epic match.
Sampras' coach, Paul Annacone said, "…performances by both players were 'mind-boggling' … Sampras' ability to survive it is further testimony of his greatness."
Do not settle
The non-stop flow of negative news along with additional distractions involved with working at home can easily draw you into a lack of focus. Create sufficient structure in each day so you can channel your energy into finding more business. Push yourself to make the extra calls or send the extra notes out. You will look back 2 months from now and be glad you did!
Feel free to contact me directly for ideas and/or help on this or other topics!
Sign up as a subscriber (right on my home page) for exclusive weekly emails with additional ideas!